UPDATE! If you missed the Facebook LIVE event today, you can watch the video by CLICKING HERE.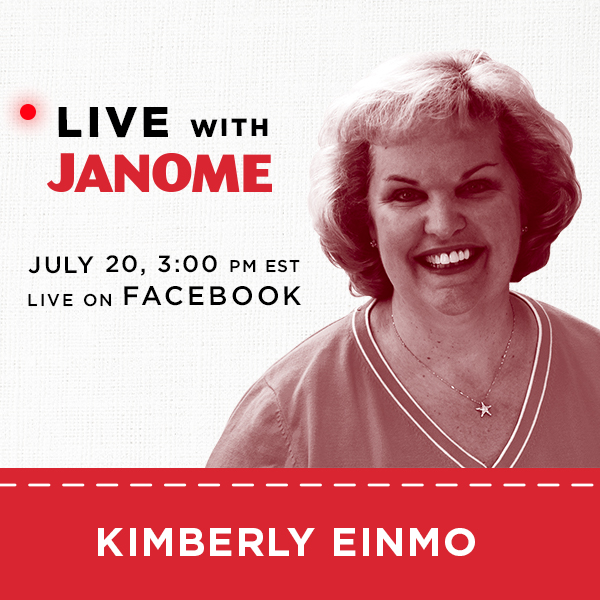 Have you been following along on the Facebook Janome Sewing Machines and Janome Sewing Classroom pages? If not, you're missing out on so many fabulous FREE classes and tutorials! Since early April, when stay at home orders were issued for most of the US, the talented Janome educators and I have been producing LIVE events to share tricks, tips and tons of techniques to help you learn to use your Janome machines and all the amazing features and presser feet which ...
read more
My stitching is done on my
This is for a blog hop project coming in May
so it will be awhile before my finished project appears on my blog.
Here is a sneak peek.
It is a cool and rainy day here in the northeast and I am
spending another day enjoying with my hand stitching in my cozy home.
This is my project for today.
I already stitched the white tree design on navy
and am making another pink cherry blossom
and will be using the fabric on the left to complete the project.
I ...
read more
I really enjoy these small hand stitching.

This is the back of my project.
I use solid fabric that does not have a front or back side for sashiko.
I have no idea if I am "doing it wrong."
I find and use methods and techniques that work for me.
I mark with a Clover Chaco Liner pen and it rubs off a little as I stitch
but it last long enough for me to stitch and it is not permanent.
I actually put as few marks as possible.
Sometimes I ...
read more
Being unable to spend hours and hours quilting as I used to do in the past, due to pains in the back, I just quilted this baby quilt with big stitches, following the sides of the small squares of the four patch blocks, using variegated colored threads. The final result is quite pleasant.


read more
I would love to go the Tokyo Quilt Show one day. In fact I think I'd rather go to the Tokyo show than the Houston show. The Japanese women love their hand work, and so many of the quilts on display in the Tokyo show are hand pieced and hand quilted. That's more my style than many of the heavily machine quilted quilts at Houston.
Anyway, here's some photos of my sashiko ...
read more
In my little corner of the world "winter blues" is a malady,
a blah feeling that comes each winter and can take root
indoors during long cold winter nights.
Occasionally it is tempered by days such as these
when the sun shines bright on new fallen snow.
My favorite way to meet and beat the blue days of winter,
when it is so cold even the air feels tinted icy blue,
is to learn something new.
This simple stitching project is my choice for the
read more
I have been away from my machine and doing some slow stitching this weekend.
This is progress on my ...
This is very easy to carry along with me in these pretty sunflowers project bags.
I did not make these bags,
I have a similar pattern, but I do not enjoy sewing bags so I bought them from
someone who does a very nice job of sewing them ...
These pretty bags were made by
I am not affiliated in any way with this shop.
I am just a happy customer.
This ...
read more
sashiko
Page 1 of 1 ( 8 posts )