liberty
Page 1 of 1 ( posts )
embroidery, gingham and Liberty

[[ This is a content summary only. Visit my website for full links, other content, and more! ]]
read more
At the begining of this new lockdown I started searching my stash of yarns with the aim of creating a new multicolor giant granny square blanket.
I picked up all the colored yarns I found for needles or crochet number 4, keeping the brown, grey and beige for another project.
Here I used the brand Fonty quality Ambiance 100 % superwash Woll superfine SW.
This is a very simple and pleasant project. It is never boring as you change colors. I love playing with varigated colors when I work on a project, that is quilting or knitting.
read more
I was not satisfied with my
LIBERTY pillow
. Laziness never pays : I had not quilted it and it looked flat.
Neither was I pleased with the back of it, done with a basic cotton instead of a Liberty one.
As regards the sewing of a zip : for those like me who have difficulties with this step, there is the solution of linking the two parts of the back of the pillow with strings, as shown on the last picture. The result is lovely.
The quilt-along started in April but I only managed to join last month by starting to cut pieces of fabric. I have't cut everything out yet but I started sewing earlier this month for a little diversity.

I started by framing the 24 squares with 2 triangles
and then with 2 more. Only to realise that I had cut out far too many triangles (and I just hate it when that happen... but never mind, it is only fabric after all. OK precious, lovely Liberty lawn fabric in this case read more
I have not yet shared my May UFO because it is away being long-arm quilted. May's UFO, a sampler quilt, was such a large project that I set myself a far more modest goal for June: finish a top that I bought the fabric for and cut out in January 2018. Since then, it has been variously draped over my dressmaker's dummy, folded in a basket or on the desk in my sewing room. Since I finished it last month, it has been on a coathanger in my sewing room.
The top is a repeat of a Liberty ...
read more
When the Halo Quilt Along was announced back in March, I had all intentions to join in with the fun. I ordered the book, printed the template and set on using my stash of Liberty fabrics. But I worked on other projects and never got started...

Finally earlier this month, I got my box of Liberty out and went through those packs of scraps I had bought over the years to start cutting the pieces.
Cutting always take forever but in a way sometimes it is quite therapeutic when tired/fed up/exhausted etc... So I have quietly and slowly ...
read more
In 1875, Arthur Lasenby Liberty opened Liberty on Regent Street in London. He sold imported goods from the East such as ornaments, textiles, and artifacts. The imported goods went so quickly, Liberty opened an in-house studio in which to design and print their own fabrics. Now, 140 years later, Liberty is internationally recognized as a leader in print design and textile innovation.
Each collection designed by Liberty is inspired by some form of worldly art – architecture, history, music, florals, etc. A new collection is released each season and every season the fabrics tell a new story.
Each design is created ...
read more
I started this cushion last March. It happened because I was neatly folding my Liberty stash. We could say that Marie Kondo prompted this cushion. I was admiring the pretty blue fabrics as I folded them and was inspired to start cutting out hexagons. A cushion would not take long, I thought.
Machine piecing the 2-inch hexagons was easy and did, indeed, not take long, but finding the time to hand quilt the cushion front was another matter. I had a plan and had chosen the quilting ...
read more
» Lilabelle Lane
FROM LONDON WITH LOVE | my first make of 2020


The arrival of the new year also means the arrival of the new Liberty Spring / Summer 2020 collection - From London with Love.
There are well over 100 prints in this collection ranging from cute prints great for a little fussy cutting to the traditional pretty florals and a few geometric prints. Something for everyone. I have added a 1" hex of each print to my long term hexie project and just ...
read more
I'm gearing up to prepare for next year, despite this definitely being the time of year where I feel like hibernating! It's time to make plans, thinking about what next year will bring and sorting out sewing projects. I'm hoping to get things in order over the Christmas break, sorting out my sewing stuff ready for a fresh start in 2020. Recently there have been a few stash additions, I've been out in Manchester stocking up and enjoying cheese toasties, and finally sneaking some project finishes in!
read more
» Lilabelle Lane
LIBERTY SPLASH | a little liberty love

Another one of my new release quilts from AQM is my 'Liberty Splash Quilt'.


It is no secret that I do love Liberty fabrics, especially for my English Paper Piecing.
The more you use any fabric the more scraps that you accumulate. Liberty Splash came to be because my glass bowl was overflowing with Liberty scraps and in all honesty I am in love with this quilt and I see a bigger version in my future as this pattern is one where you can just make a block or two as your scraps allow ...
read more

And so my friends, the time has come to finish our Sunset Isle quilts! And one final check in on Instagram on #sunsetislequilt.

Month 12
The final row is similar to the first row of Sunset Isle – the whole quilt has a touch of symmetry to it from top to bottom, and that's the way I like it… uh huh uh huh.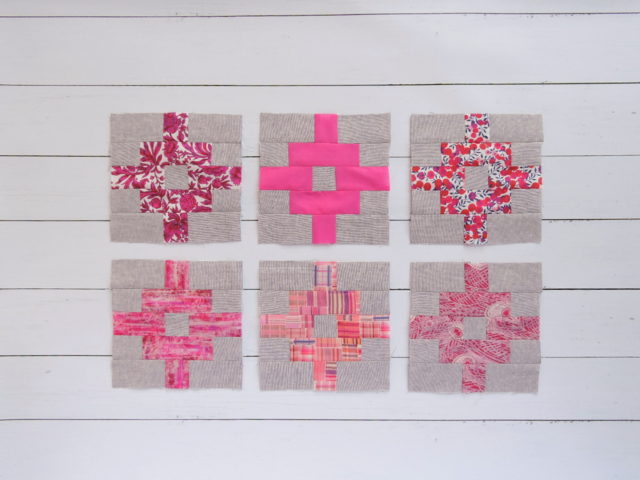 Finishing instructions for your quilt are included in the pattern! Later on this month, I'll share my full Sunset Isle quilt and a few tips for making the rows work and fit if they're not ...
read more
"This is the power of gathering: it inspires us, delightfully, to be more hopeful, more joyful, more thoughtful: in a word, more alive." - Alice Waters
Last Sunday was Stitch Gathering, the wonderful day retreat organised by Jo Avery of
myBearpaw
, in Edinburgh. It is always a full day of fun, with great classes and company and it's always over too soon. I was there teaching a class - something a little different, more on that later! - and also had the opportunity to take a class. As someone that relishes learning and trying new techniques it was very exciting. And oops ...
read more
liberty
Page 1 of 1 ( 14 posts )